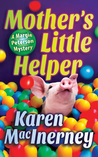 Mother's Little Helper by Karen MacInerney
My rating: 5 of 5 stars
Margie Peterson is a Mom, bumbling PI and soon to be ex wife. She has problems on top of problems, but handles everything life throws her way. She's trying to find the person embezzling PTA funds and find a murderer. Margie goes undercover as a body waxer and factory worker trying to find a killer with Lucy Ricardo moments. She also is trying to find a streaker with hilarious results.
Her boss has set her up a dating profile, much to Margie's chagrin. She goes on two dates with disastrous yet hysterical outcomes. Think aging jerk and a sock puppet named Marshmallow. Plus, getting stuck with the check.
She loses her daughters fry phone, that ends up being held hostage, then she loses her daughters pig, Twinkles tying to catch the streaker. To add insult to injury, she runs into her husbands new boyfriend while undercover at a waxing salon.
This book is very entertaining, characters are very real life and down to earth. I was hooked from page 1 and read it in one sitting.
Thank you to Netgalley and Thomas/Mercer for ARC in exchange for honest review.